Edlington Colliery miners remembered at special service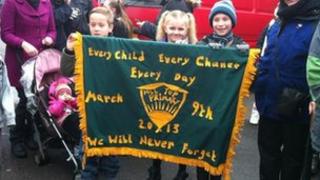 One hundred and thirty three miners who died in fatal accidents while working at a colliery in South Yorkshire have been remembered at a special service.
During the event, near the former site of Edlington Colliery, a plaque was unveiled with the names of all miners who died there between 1909 and 1985.
A memorial garden containing a commemorative statue was also opened by the Bishop of Doncaster, Peter Burrows.
The event was a "poignant occasion" for the whole community, the Bishop said.
"It's a stark reminder of the many dangers they faced but also an opportunity to give thanks for their lives and work," he said.
"It's a privilege to be asked to join the community for this memorial, and I continue to hold them and all those who continue to work in the few mines that are left in my thoughts and prayers."