Stainforth landslip rail line to be closed until July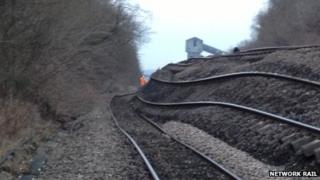 About one million cubic metres of collapsed spoil heap has to be removed before a railway line can be repaired, Network Rail has said.
The landslip at Stainforth's Hatfield Colliery, South Yorkshire, pushed the track upwards forcing the line to shut.
Network Rail said work by the colliery to remove the spoil heap from the line was "complex and will take some time".
Rail services between Doncaster, Scunthorpe and Cleethorpes are expected to be suspended until July.
The rail company had previously said the line would be closed until the end of June.
Damaged vegetation
Buses have replaced those services and an amended timetable will run until the track is repaired.
Phil Verster, route managing director for Network Rail, said his teams were clearing damaged vegetation and finalising designs for the repair while the colliery was moving the material.
"Because of the nature of the material in the spoil heap the work to stabilise it and remove the material from the railway is complex and will take some time," he said.
"Our estimate for the completed repair remains early July but this is an estimate."
Mr Verster thanked passengers for their "continued patience" and added that Network Rail was doing everything it could to restore a full service "as quickly as possible".