Sheffield building collapse students 'homeless'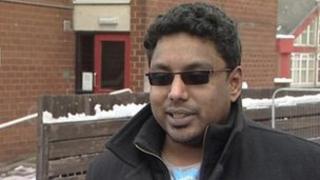 More than 20 students have been left looking for alternative accommodation after their building partly collapsed in Sheffield city centre.
Four people were rescued after the mid-terrace of a three-storey building, in Brook Hill, came down on Saturday.
Imran Abdulshukoor, who lives in an adjoining terrace, said it was a "nightmare".
Investigations are being carried out to establish the cause. The fire service said there was no explosion or fire.
'Just terrible'
Mr Abdulshukoor, a student at Sheffield University, said: "There was a huge noise and we were all in the kitchen. We looked out and the next building wasn't there.
"My friend was inside trapped underneath a table and it took about 40 minutes for emergency services to get him out of the debris.
"It was like a real nightmare. Just terrible."
Mr Abdulshukoor said he, along with up to 30 other students, had been affected.
He said the majority were staying with friends until alternative accommodation was found.
"Our landlord has been helpful and the university staff they've been providing support so hopefully we will get sorted," he said.
The fire service said a man and a woman, understood to have been living in one of the flats, were taken to Northern General Hospital. Their injuries are not thought to be life-threatening.
The other two casualties did not need hospital treatment.