Sheffield building collapse blamed on digger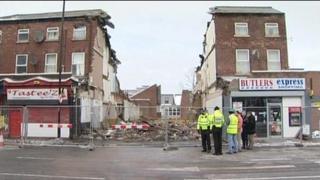 A three-storey building collapsed after a load-bearing column was damaged by a digger, Sheffield City Council said.
Four people were trapped in the rubble and 20 left homeless after the property came down on Saturday.
The council believe the collapse in Broad Lane, Brook Hill, was caused by digging machinery hitting the pillar.
Contractors working at the premises were not available for comment and the Health and Safety Executive (HSE) have refused to comment on the cause.
A council spokesman said: "The building partially collapsed on Saturday when a mini-excavator being used by the shop fitters hit one of the internal load-bearing support columns.
"That meant that around 20 people, mainly students, living in the upstairs floors had to be evacuated.
"It is in the hands of the insurance company to decide how to re-house the students."
The building, above the former Butler's Balti House, was demolished completely on Sunday following the partial collapse.
The fire service said there was no explosion or fire.
Insurers are looking into the viability of the adjacent buildings.
An HSE spokeswoman said their investigation into the incident was likely to continue for "many months".
She said: "The purpose of the investigation is to find out what happened and why but it is far too early to start commenting on the possible cause."
The fire service said a man and a woman, understood to have been living in one of the flats, were taken to Northern General Hospital. Their injuries are not thought to be life-threatening.
The other two casualties did not need hospital treatment.