Stocksbridge Leisure Centre survival plan handed over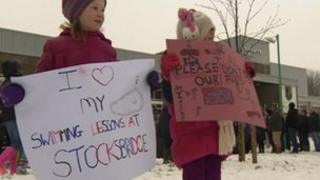 Campaigners hoping to keep a leisure centre open have delivered their survival plan to the council.
Sheffield City Council is to stop funding Stocksbridge Leisure Centre as part of £50m cut from the 2013-2014 budget.
The campaign group 4SLC says its plan allows for a "gradual transition" so the community can take over the centre.
The council has said the centre is expensive to run and has falling visitor numbers.
Campaigners are also applying for a judicial review of the closure decision, on the grounds that a "proper consultation" was not carried out.
Faye Howard of 4SLC said the plans had been delivered to the council within the deadline.
She said there was a "real depth of feeling" about the closure of the centre as it "was largely built on public subscription, so we really do care".
Financial austerity
Ms Howard said the campaigners would need help from the council and owner Sheffield International Venues in the short term, with a "gradual transition" so the community could take over the centre.
4SLC said in a statement its outline business plan made the best use of scarce public funds at a time of financial austerity.
Isobel Bowler, a Sheffield City Council cabinet member, said: "Council officers have agreed to meet with the group at the earliest opportunity to discuss the proposals in detail.
"The council will then be able to form a view regarding the viability of the plan."
Other council proposals include the closure of the Don Valley Stadium and libraries.