'Outcast' baboons re-homed by Yorkshire Wildlife Park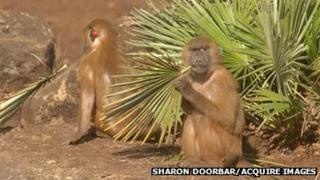 A troop of "outcast" baboons have been found a new home at a wildlife park in South Yorkshire.
The 17 Guinea baboons were moved from Edinburgh Zoo after "falling out" with the others who shared their enclosure.
Their new home is in the Yorkshire Wildlife Park (YWP) which opened near Doncaster five years ago.
Cheryl Williams, director of the YWP, said, "We are absolutely delighted to welcome the baboons to the park... they seem to be really enjoying themselves."
"They have become very firm favourite with everyone," she added.
Two of the new arrivals are very young babies and are still being carried around by their mothers.
Guinea baboons have a strict social hierarchy and normally live in groups of up to 40 individuals. They spend most of their time on the ground foraging, playing and grooming each other.
The species is listed by the International Union for Conservation of Nature (ICUN) as its conservation needs to be monitored.