Don Valley Stadium closure date set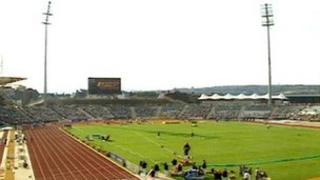 The stadium where Olympic champion Jessica Ennis trains is to close on 30 September.
Sheffield City Council said earlier this year that Don Valley Stadium was to be knocked down to save money.
The smaller Woodburn Road Athletics Stadium is to reopen as the city's new home for athletics.
The council has said it will reconsider if "an affordable and sustainable solution" is found to retain the stadium before the date set.
If not, the intention is to close and demolish it after the last of the existing booked events.
The authority said £700,000 it spent on the arena in 2012-13 was unsustainable as the stadium was running at a loss.
A report by the council said although there were concerns about the loss of such a major sports facility, alternative closures would be worse in terms of the impact on sports participation and health.
The report said: "To achieve the same level of saving as closing Don Valley, the city would have to consider the alternative closure of several community pools with a loss in participation many times greater."
About £300,000 is to be invested by the council to reopen the nearby Woodburn Road facility.
Councillors are expected to agree the closure date of Don Valley at a meeting of the cabinet on 10 April.
They will also discuss plans to hand over control of Stocksbridge Leisure Centre to the community.
Sheffield City Council had planned to end its £400,000 subsidy of the centre from April as part of its budget cuts.
But the cabinet report said the authority could provide up to £125,000 either to support community operation of the centre from 1 May, or to mothball it until the end of August to give the potential new operators more time to "finalise their business case".
The campaign group 4SLC handed an outline business plan to the council last month.