Flagons stolen from Clifton Park Museum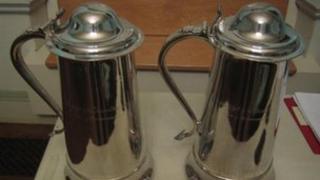 Two 18th Century silver flagons worth £30,000 have been stolen from a museum in South Yorkshire.
The 36.5cm high (14in) drinking vessels were taken from Clifton Park Museum in Rotherham on Tuesday.
Thieves broke into the museum overnight by smashing a window, South Yorkshire Police said.
Both flagons had a domed hinged cover with a leaf scroll thumb-piece and engraved with "The Gift of Mrs Mary Bellamy, Late of Rotherham, 1781".
The George III flagons, which have a hollow handle with a heart shape at the end, weighed 116oz (3kg) in total.
Police have appealed for witnesses.