Sheffield woman flees 'petrol bomb attack' at her home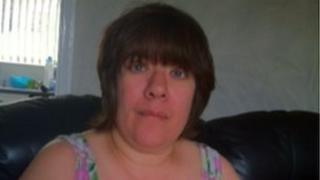 A Sheffield woman said she had to flee her home after a petrol bomb was thrown into her lounge in a "targeted attack".
Collette Williams, 44, said she escaped through a ground floor window after she discovered her living room was on fire.
Police have said the blaze at the property in Longley Park Road, Sheffield, is one of three arson attacks under investigation.
Officers are linking the attack at Ms William's home with fires in nearby Lytton Drive and Deerlands Avenue.
A spokesman said a glass bottle filled with petrol was thrown through Ms William's flat's living room window before it ignited on the floor inside.
Ms William's said she had been woken up by the sound of breaking glass and her burglar alarm at about 01:00 BST on Sunday, prompting her to call the police.
"After I put the phone down my smoke alarm went off so I opened my living room door and there were flames and smoke," she said.
'Life at risk'
"I just closed the door quickly and got myself out of the flat, out of a window."
She added: "I can't understand why they did it or why they would want to put someone's life at risk.
"The fire officer said it could have been a lot worse if the bottle had exploded, luckily it did not explode.
"It does not bear thinking about what could have happened if it had exploded."
She said fire and smoke had damaged a sofa and footstool in her lounge.
Firefighters were called to the first of the three fires in Deerlands Avenue at about 22:00 on Saturday before attending a blaze in Lytton Drive at 23:45.
A spokeswoman for South Yorkshire Police said all three incidents are believed to have been "targeted attacks" which caused "superficial damage" to properties.
Nobody was injured in any of the fires.