Public consulted over Bentley Park and pavilion revamp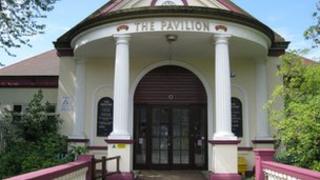 A £3m renovation of a pavilion built by South Yorkshire's mining community is being designed with the help of the public.
The pavilion in Bentley Park, near Doncaster, was built in 1931 with donations from pit workers.
The council wants to redesign the pavilion and park after it recently fell into disrepair.
It hopes to improve access to the venue, its catering facilities and create a veranda and an outdoor space.
The park's footpaths, children's play area and lighting will also be improved. A new bandstand, water fountain and gardens would also be built, the authority said.
Residents were invited to offer ideas and suggestions on the designs.
'Glory days'
Councillor Charlie Hogarth said: "The pavilion is tired and not fit for purpose.
"It's not nice to be in but it is used a bit, there are gymnast and trampoline classes held there. The park's not very nice, that's also tired and a bit of a mess.
"So we want to put it back to how it was in its glory days."
Work on the project, which secured a £2.5m grant from the Heritage Lottery Fund, is expected to start in late autumn and be completed in 2014.
The park, on Askern Road, Bentley, opened in 1923, eight years before the pavilion was built.
Construction of the original pavilion was funded by the miners welfare committee.