Sheffield Sports Fest seeks future Paralympic stars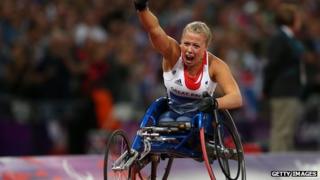 A two-day event is being held in Sheffield to encourage more people to get involved in Paralympic sport.
Hundreds of people signed up to take part in the ParalympicsGB Sports Fest at the English Institute of Sport (EIS) on Friday and Saturday.
Double gold medal winner Hannah Cockroft said: "The amount of people in there now clearly shows that we've inspired a few people."
More than 1,000 people took part in the inaugural event in Surrey in December.
'Level playing field'
Tim Hollingsworth, chief executive of the British Paralympic Association, said they needed to keep building on the success of London 2012: "We had those incredible 11 days last summer, and there are competitions coming up across the UK and internationally over the next couple of years.
"But we've got four years nearly until the next games, and that's a long time to keep people thinking, interested, and passionate about it."
Hannah Cockroft, who won the T34 100m and 200m at the Paralympics, believes athletes like her had inspired more people to take an interest in disability sport.
"Looking inside the EIS centre today, we've definitely done that. It has been absolutely amazing. Finally Paralympic athletes are being seen on a level playing field to Olympic athletes," she said.
"Hopefully someone in there will win a gold medal in 2016."