Fire at Doncaster pallet yard made 'clouds glow orange'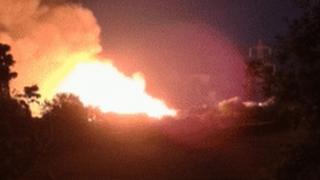 A huge fire that destroyed thousands of wooden pallets at a storage yard in Doncaster made the "clouds glow orange", an eyewitness has said.
At its height, about 70 firefighters tackled the blaze at the pallet yard on Cow House Lane, Armthorpe, which started at about 03:30 BST.
Eyewitness Iftica Ahmed, a taxi driver, said the fire "lit up the sky".
"The reflection of the flames was so strong it made the clouds glow orange. It was almost like sunrise," he said.
'Feel the heat'
Mr Iftica, who was taking passengers from Doncaster to Scunthorpe on the nearby M18 at the time of the fire, said he was "completely amazed" at the scene.
"On the way back I could feel the heat. It was as if there were lots of fireflies in the air. I felt like I could have singed my hair on the flying pieces of ash."
It is thought the fire spread from the yard to the nearby West Moor Park Network Centre, where a single factory building was also alight.
Incident commander Darren Staniland said: "All the pallets, many thousands of them, have been destroyed in the fire."
The damping-down operation could last well into the evening, Mr Staniland added.
Investigations into the cause of the fire were likely to continue into next week, he said.
No-one is believed to have been hurt.