Sheffield explosion survivor Agostinho Jesus 'thought he would die'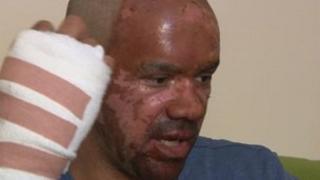 A man who was injured in an explosion that destroyed a Sheffield house has described the moment he thought he was going to die.
Agostinho Jesus, 36, said he was leaving his house on Dundas Road, Tinsley on Wednesday when an explosion ripped through the property.
Mr Jesus said his first thought as he was blown off his feet was: "Oh my god I'm burning alive."
He was taken to hospital suffering from burns to his head and hands.
The mid-terrace property was destroyed in the blast and the two adjoining houses badly damaged.
A number of people were taken to hospital with minor injuries or suffering from the effects of breathing in smoke.
About 50 people were forced to leave their homes after police set up a 150m (500ft) cordon around the scene of the blast. Most have now returned.
The 36-year-old described it as "life-changing".
He said: "The last thing you are doing is switching off your light switch or trying to close your door and the next thing you know you just hear a big bang.
"You are thrown away and at the same time, the whole front of the house is thrown away.
"You are surrounded by fire. I was feeling I was going to die there.
"Every time I close my eyes the only thing I see, I don't want to see it, but the only thing I see is that moment, that fire. Being blown away by an explosion."
South Yorkshire Fire Service said the most likely cause of the explosion was a gas leak. Police said they had not ruled out criminal activity.