Gene machines at Sheffield Children's Hospital cut diagnosis time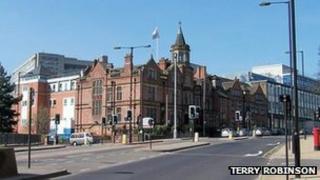 A children's hospital has two new machines capable of slashing diagnosis waiting times for patients with rare and inherited diseases.
The £500,000 system at the Sheffield hospital was funded by The Children's Hospital Charity.
Doctors say tests done on patients can now be returned within two weeks instead of taking up to a year.
Dr Ann Dalton said the machines would "revolutionise genetic science immediately for our patients".
The new technology - called next generation sequencers - can test DNA from any living organism.
'Massive difference'
Dr Dalton, consultant clinical director of genetics, said: "The first stage for us as a hospital trust is to cut waiting times for test results.
"Before we could only test one gene at a time but now we can test up to 100 together.
"This will mean a lot to some of our patients waiting on a confirmed diagnosis or changes in treatment."
There are about 15 such sequencers at NHS trusts.
David Vernon Edwards, director of The Children's Hospital Charity, said: "This state-of-the-art equipment has the potential to make such a massive difference to the lives of the hospital's young patients and their families."