Sheffield fundraising 'Pram man' awarded British Empire Medal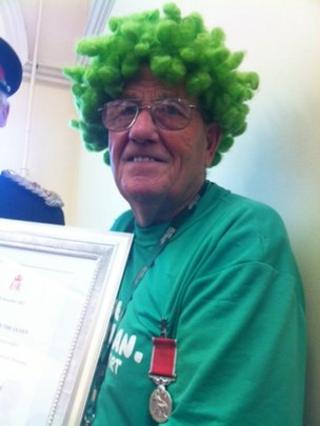 A fundraiser dubbed "The Mad Man with the Pram" has been awarded a British Empire Medal after raising more than £200,000 for Macmillan Cancer Support.
John Burkhill was presented with the honour at Sheffield Town Hall by the Lord-Lieutenant for South Yorkshire.
Mr Burkhill, 74, dedicated himself to raising money for the charity after losing his wife June to cancer.
He earned his nickname by pounding the streets over the past 20 years wearing a green wig and pushing a pram.
He has competed in 892 races, including the London marathon 19 times.
'Incredible supporter'
After receiving the medal Mr Burkhill said: "I've raised between £200,000 and £250,000.
"It's inspired a lot of people to go out and fundraise for Macmillan.
"It's a bit daft, a bit crackers - you've got to be crackers to do something like this."
Tracy Townend, fundraising manager for Macmillan Cancer Support, described Mr Burkhill as an "incredible supporter".
The British Empire Medal was awarded in the United Kingdom until 1922 but was brought back into use in 2012 for the Queen's Diamond Jubilee.