Alan Greaves murder: Ashley Foster 'scared' of organist's killer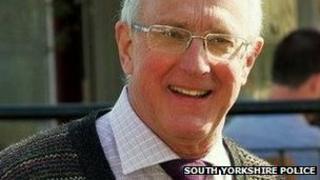 A man accused of killing a church organist has told a jury he was "scared" of a man who has already pleaded guilty to the murder.
Alan Greaves, 68, was set upon as he made his to St Saviour's Church, in High Green, Sheffield, on 24 December.
Ashley Foster, 22, denies murder. Jonathan Bowling, also 22, has admitted killing Mr Greaves.
Mr Foster told Sheffield Crown Court he thought Bowling was going to "beat me up" with a pick-axe handle.
Threatened to kill
The jury has heard Mr Greaves sustained "grave and catastrophic" head injuries in the attack, and died in hospital three days later.
Prosecutors said he was hit with a pick-axe handle and another weapon, possibly a hammer.
Giving evidence in his own defence, Mr Foster, of Wesley Road, High Green, told the jury he was walking around High Green with Bowling on Christmas Eve to calm him down.
He said Bowling, of Carwood Way, Pitsmoor, had threatened to kill someone they had been with earlier.
Mr Foster said during the walk Bowling went off for a moment and came back with a pick-axe, which he knocked the head off leaving just the handle.
He said: "I thought he was going to beat me up with it. I thought he was going to beat me up there."
Foster told the court he had known Bowling since he was 13 years old, when his mother was involved in a relationship with Bowling's father, Leslie Bowling.
He said Leslie Bowling often beat him up and tried to kill his mother, leading to the family moving to Cornwall.
When the family returned to Sheffield from Cornwall, Foster said Jonathan Bowling would come to his house.
He told the court: "I was scared of telling him to go away, scared of him trying to beat everyone up in my house and beat me up."
The trial continues.