Jessica Ennis-Hill's coach receives honorary degree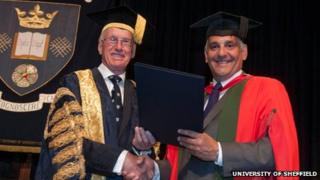 Olympic champion Jessica Ennis-Hill's coach has been awarded an honorary degree by the University of Sheffield.
Toni Minichiello has worked with Ennis-Hill for more than 15 years. He coached her to win Olympic heptathlon gold at London 2012.
He said it was "wonderful" to be presented with an honorary Doctor of Letters.
It comes a year after he was named as coach of the year by sports training body Sports Coach UK.
Before the ceremony Mr Minichiello said: "It is wonderful to be recognised for coaching as sports coaches often go unrecognised in their achievements.
"Being an alumnus of the university, and having always lived in the city, I am very attached to the institution so it will be a very proud moment for me to receive this honour."
Mr Minichiello has coached Ennis-Hill in her native Sheffield since she was a teenager and continued to work with the athlete despite losing his full-time job with UK Athletics in January.
A restructure of the governing body required most coaches to be based in Loughborough.
Despite the planned demolition of Don Valley Stadium after it closes in September, Ennis-Hill is to remain in Sheffield, her coach has said.
He is now working with her in preparation for the World Athletics Championships in Moscow next month.