Sevenstone developer dropped by Sheffield council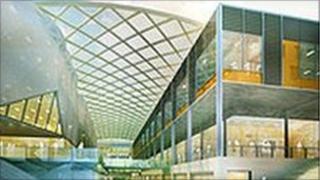 The developer of a £400m shopping centre in Sheffield city centre has been dropped by the council.
The Sevenstone project was put on hold by developer Hammerson in 2008 due to the recession.
The company said it had "worked hard" to deliver the project but could not give a completion date to the local authority.
The Labour-run council said the project remained "viable" and was seeking new partners to take it forward.
The scheme, originally expected to cost £600m, consists of a development in and around Barker's Pool, Pinstone Street and Cambridge Street.
Hammerson said the original scheme had been redesigned to cut costs following the recession.
Further delays
Councillor Leigh Bramall, cabinet member for Business, Skills and Development at Sheffield City Council said: "We have got everything in place to make this a viable, attractive development scheme, and we can't wait any longer to take this forward.
"We are doing everything we can to make this happen, and now this means seeking a new partner."
The decision to drop Hammerson means a delay of up to two years before work can begin.
Peter Cole, the company's chief investment officer, said the decision was a "mutual one".
"We have worked very hard to achieve a retail scheme which creates a thriving city centre environment in Sheffield. We believe the city can build on our work to date," he said.
The council said it was confident it could attract new partners as the site was already secured, the utilities were in place and multi-million pound investment was available.