CCTV images of wanted Doncaster man released by police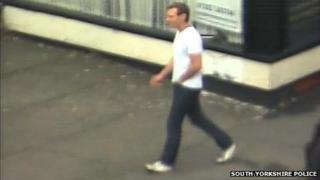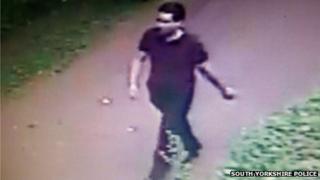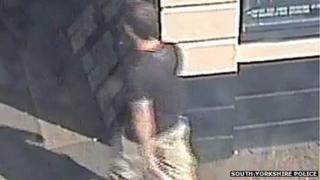 CCTV images of a man wanted in connection with a series of alleged indecent assaults on girls as young as 11 have been released.
South Yorkshire Police have appealed for help identifying the man after eight incidents were reported between April and August in the Doncaster area.
Detectives said the "exceptionally serious crimes" were committed against girls aged between 11 and 15-years-old.
The man is described as having a "distinctive arm swinging walk".
Acting Det Sgt Andrew Knowles said: "We are continuing to investigate these exceptionally serious crimes, and we urge the public to help us identify the man we believe to be responsible."
'Distinctive t-shirt'
Alleged offences have been reported in Intake, Clayfields Industrial Estate, Balby, Lakeside and the town centre.
In the most recent incident an 11-year-old girl was walking her dog on Thorne Road when a man reportedly approached her and is said to have pinched her bottom before walking off.
Det Sgt Knowles said: "We have uncovered a number of characteristics about the man we believe to be of interest to the investigation, including that he is known to carry a bottle of water in his back pocket, and has a distinctive arm swinging walk.
"Witnesses have also described him as wearing a distinctive t-shirt featuring an image of a man holding a red guitar."