Drugs suspect held in Amsterdam in 'National Crime Agency first'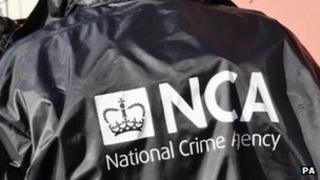 A suspected drugs trafficker has become the first British fugitive to be arrested overseas since the National Crime Agency (NCA) launched on Monday.
Craig Allen, 50, from Sheffield in South Yorkshire, was arrested in Amsterdam on Tuesday.
He is wanted in connection with seizures of heroin and cocaine dating back to 2010, said the NCA, which has been dubbed the UK's answer to the FBI.
Mr Allen was arrested by armed police from the UK and Netherlands.
The officers captured him as he left a furniture store in the Dutch capital. British authorities will now attempt to extradite him back to the UK.
The NCA said it is believed he oversaw the importation of drugs while living in Thailand.
Officers from the NCA, South Yorkshire Police and the Dutch National Crime Squad were involved in the operation to track down Mr Allen, who was arrested on a European Arrest Warrant.
During a subsequent search of a flat in Amsterdam, officers found 4kg (9lb) of what is believed to be cocaine and 500,000 euros (about £425,000).
Dave Allen, head of the NCA's Fugitives Unit, said: "We believe this man, who is the first fugitive to be captured abroad since the NCA launched, is involved in the importation and supply of large quantities of drugs."