Tata Steel confirms £15m South Yorkshire furnace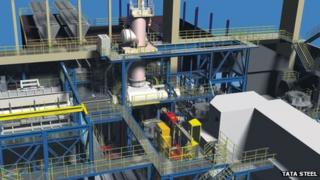 A steel firm has confirmed plans to construct a new £15m furnace at its South Yorkshire plant.
The Vacuum Induction Melting (VIM) furnace would enable Tata Steel to increase its supply of high-purity steel to the aerospace industry.
The furnace at the Stocksbridge plant is expected to be in operation by 2015.
VIM production involves melting and casting steel in an oxygen-free atmosphere, producing steel which is very clean and has a low gas content.
Mark Broxholme, managing director of Tata Speciality Steels, said: "Having our own manufacturing capability will greatly increase our scope for VIM sales. This is a clear signal to our customers that we are fully committed to the aerospace market for the long term.
"This is also great news for the team here at Speciality Steels, which has put enormous effort into bringing this facility to South Yorkshire."
The company said there would be a minor increase in the number of people working at the site once the furnace was constructed.