Bradford Quakers hold 'Christmas Truce' football match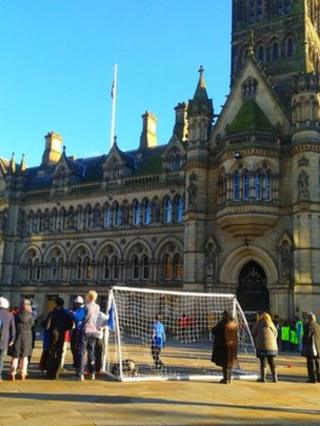 A "peace and harmony" football match to commemorate World War One and to honour the 1914 Christmas Truce has been held in West Yorkshire.
The game was played at Centenary Square in Bradford city centre.
It was played in the style of the truce match between German and British troops on the Western Front on Christmas Day 1914.
Chris Butler of Bradford Quakers said the intention was to "recreate the atmosphere of humanity and friendship".
Mr Butler said he had the idea for the Remembrance Sunday match while talking to members of the University of Bradford Peace Studies department.
'Human spirit'
During the Christmas Truce, British and German soldiers stopped fighting and ventured into no man's land to talk, exchange gifts and play football.
The Lord Mayor of Bradford Khadim Hussain kicked-off the match with Yorkshire's German Consul, Mark Green.
Mr Hussain said: "My father and my uncle served in World War Two so it is important to me - for us - to remember the sacrifices made by those who have served and continue to serve in our armed forces.
"This event helps us to reflect on the amazing show of human spirit that happened on Christmas Day 1914."