'Women of Steel' concert raises £50,000 for Sheffield statue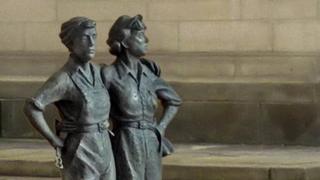 A concert starring some of the biggest names in Sheffield's musical history has raised £50,000 to commemorate the city's "Women of Steel".
A bronze statue in recognition of the women who worked in the steelworks through both world wars is planned for the city centre.
Concert organiser John Palmer said the event at Sheffield City Hall meant "the end was in sight" for the statue fund.
ABC, Heaven 17 and Baby Bird were among the artists who performed on Saturday.
Sheffield City Council launched an appeal in February to raise £150,000 to install the sculpture at Barkers Pool, outside the City Hall.
The statue has been designed by artist Martin Jennings, and a model has been made.
Mr Palmer said the statue should be in place in time for the 100th anniversary of the outbreak of World War One in 2014.
Standing ovation
"We've reached tipping point," he said. "When you've got that amount of money the project looks very real.
"We can now see the finishing line, to fulfil those ladies' wishes to have that statue before they die."
Every artist at the Women of Steel concert dedicated a song to the group of women, now in their 80s and 90s.
Ruby Gascoigne, 91, attended the after-show party. "We are all amazed at how many people came to the show, and the warmth and affection people showed us," she said.
"We just loved every minute of it."
Mr Palmer said City Hall was chosen for the location of the statue and the concert because it was a venue for tea dances during World War Two, attended by many of the women.