Barnsley library protest outside threatened building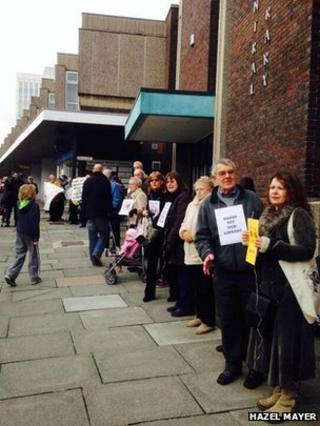 A protest has been held outside a library threatened with demolition.
Campaigners called the council plans to flatten the building in Barnsley, South Yorkshire, to make way for a new £17m sixth form college "just madness".
Barnsley Council said it was consulting the public on its plans to relocate the library elsewhere.
Protesters called the consultation a "sham" and claimed there were "more appropriate sites" for the college than the Shambles Street library site.
One of the campaigners Dave Gibson said a recently launched petition had gathered more than 4,000 signatures against the demolition.
'Only one library'
"It's a building that is less than 40 years old," he said.
"As an ex-sixth form teacher I'm very, very happy to see a new sixth form college.
"There are plenty of sites in the centre of Barnsley where a sixth form college could go but there is only one library.
"To pull it down is just madness."
Barnsley Council claimed the new college would "enhance the town centre" and boost Barnsley's economy.
In a statement the council said: "The relocation is a key part of our strategy to modernise the current library service while maintaining all our library buildings in the face of severe financial pressures."
The library would move to Wellington Street in the short-term while a more suitable longer-term location was considered, the council said.