Stephen Thacker rewarded for attempted fire rescue in Barnsley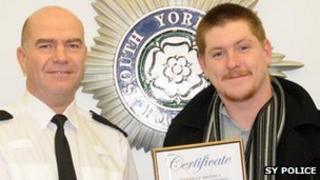 A man who ran into a burning house to check no-one was trapped has received a police award for bravery.
Stephen Thacker, 23, noticed flames coming from a house on Jackson Road in Goldthorpe, Barnsley, late at night on 12 October.
South Yorkshire Police said without considering his own safety, Mr Thacker ran inside to check if children were hiding in cupboards and wardrobes.
He was given a Police Commander's Commendation.
Mr Thacker said: "I would not have been able to live with myself if there was somebody in there and I had not done anything and just had stood back.
"I kicked the back door through and managed to cover my face from the smoke.
"When I got in there I checked the kitchen and then I managed to get upstairs to check the obvious places like the bathroom and the bedrooms, any obvious places where kids could be."
Ch Supt Andy Brooke said Mr Thacker's actions "were clearly courageous and without due regard for his own safety".
No-one was in the house at the time of the fire yet Mr Tucker was not aware of this, Mr Brooke added.
Mr Thacker was also praised for providing information to fire crews when they arrived.