South Yorkshire Police to spend £35k on Texas lie detector training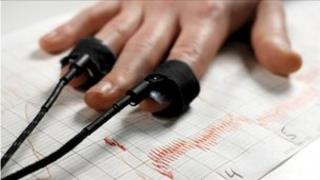 A police force is to spend £35,000 to send two officers to Texas to learn how to use lie detectors on sex offenders.
South Yorkshire police commissioner Shaun Wright said it would "protect children at risk of sexual abuse".
Polygraphs, known as lie detectors, monitor brain activity, sweating, heart rate and blood pressure but are said to be too unreliable to use in UK trials.
Mr Wright said the scheme would reduce the risk posed by potential offenders and cut the cost of investigations.
The polygraph tests will be offered on a voluntary basis as part of probation or bail conditions.
Suspects arrested for offences involving indecent images of children are currently released on bail while thorough investigative technical work is carried out.
Ten-week course
Mr Wright said the polygraph tests would help prioritise criminal investigations and determine an individual's risk to the community.
In August, he commissioned an HMRC report into South Yorkshire Police's protection of victims of child sexual exploitation, in which he found there had been "a failure of management" and said the force must "act immediately" on the findings of the report.
Polygraph results are considered too unreliable for use in criminal trials in the UK and would not be used in a prosecution, police said.
Instead, the results will help assess the risk posed by a sex offender and those caught in possession of indecent images of children.
"This is an excellent opportunity for officers to be proactive in their management of suspects on police bail and contribute to protecting and safeguarding more children at risk of sexual abuse," Mr Wright said.
The officers will be accredited by the American Polygraph Association after completing the 10-week training course in Texas.
Two full-time police officers in South Yorkshire are to be assigned to the testing of sex offenders following the training.
In previous polygraph trials run by Hertfordshire Police, three-quarters of offenders had their risk status increased, so offering greater protection to the public, police said.