Anthony Marsh and Lee Davis jailed for child sex crimes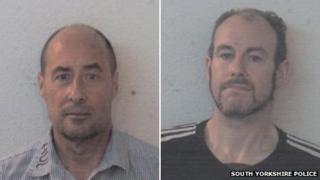 Two "predatory, dangerous paedophiles" who groomed boys as young as 13 on the internet have been jailed for life for a string of offences including rape.
Anthony Marsh, 53, who is HIV positive, and Lee Davis, 39, of Conisbrough, South Yorkshire, admitted more than 50 child sex offences against 11 boys.
Marsh, of Hatfield, and Davis used social networks to befriend the boys, who all tested negative for HIV.
The offences took place between 2004 and 2013.
Marsh, of Menson Drive, who is also known as Tony Taylor and Tony Smith, admitted 34 charges at Sheffield Crown Court in September, including having sexual activity with a child and possessing and distributing indecent images of children.
'Truly shocking'
Davis, of Rowena Road, who is also known as James Parkin, pleaded guilty to 20 charges, including rape, sexual activity with a child and taking indecent photographs of a child.
The men, both married with children, also admitted a joint charge of conspiracy to commit sexual activity with children.
Sentencing Marsh to a minimum of 10 years and Davis to at least 12-and-a-half years, Judge Julian Goose QC told the men they were "predatory, dangerous paedophiles".
The offences involved boys aged between 13 and 17, from South Yorkshire, East Yorkshire, the North East, North West and the Midlands.
Sheffield Crown Court heard the pair were caught after Marsh was arrested in May 2012 at a hotel in Scarborough, North Yorkshire, when he was spotted with indecent images of children.
Police then found thousands of images in Marsh's possession, many at the highest possible level and involving children as young as six.
There was no evidence Marsh had abused children younger than 13, but internet chat recovered by police indicated he was interested in much younger children.
Police found a library of films hidden in the cellar of Davis's home showing him abusing the boys.
Judge Goose said it was "truly shocking" Marsh had unprotected sex knowing his condition.
'Impressionable boys'
He told the defendant he carried on "never for a moment telling most of them, any of them, of your diagnosis or telling them of the risk they were taking".
Speaking outside court, Det Insp Delphine Waring said: "Today's sentencing brings to a conclusion one of the most shocking series of sexual crimes committed against young boys that South Yorkshire Police has investigated.
"Marsh and Davis indulged their own depraved and criminal desires for many years against a number of young, impressionable and vulnerable young boys the length and breadth of the country.
"The extent of their offending was matched only by the duplicity of their behaviour, which included their use of pseudonyms and multiple mobile phones to disguise their true identities and the deceit they exhibited day after day to their own families."