Thavisha Peiris killing: 'World destroyed' by stabbing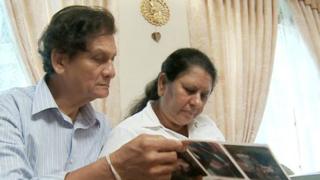 Six weeks after Thavisha Peiris was stabbed to death in Sheffield on his final shift as a pizza delivery driver, his mother Sudharma Narangoda is a long way from coming to terms with his death.
"I feel like the whole world has been destroyed," Mrs Narangoda told me.
"It was hard bringing him up, it was a lot of love and sacrifice, all wiped out, now we have no hope for the future."
Mr Peiris, 25, had studied at Sheffield Hallam University and, having graduated in 2011, was on the cusp of a new career as an IT consultant when he was killed on 27 October.
Visiting the Peiris family home in the Nawala district of Colombo, Sri Lanka, you get a sense of what a close family they are. Most of the surrounding houses belong to close friends or relatives.
Mr Peiris was the youngest of the cousins - all of whom attended the same school and thought of each other as siblings.
The family chose to give their first in-depth interview to the BBC, to explain how his death has affected them.
Family members crowded into the living room as I arrived, some wanted to be filmed while many more remained behind the camera, listening to my questions and asking their own.
All were at a loss as to why the killing had happened.
His father Sarath, said: "I can't sleep at night, I keep waking up thinking about him.
"I can't take being separated from him."
Mr Peiris told me he had used his retirement money to help fund his son's education in the UK.
But their son also supported himself by working part-time as the pizza delivery driver.
His family wanted to know more about British society and life in South Yorkshire, asking me if this type of crime was "normal", if murders were commonplace.
Mr Peiris and Mrs Narangoda said they thought it was a "safe" country, and had wanted the best for their son.
'Profoundly shaming'
They travelled to Sheffield shortly after their son's death and were touched by the response of the people of Sheffield, some of whom donated money to pay for the funeral.
Mr Peiris was eager to show me a letter the family received from Prince Charles, who said it was "profoundly shaming that this should have happened in the country to which he had come in order to develop his full potential".
I could tell he was proud of the letter by the way he cradled it, carefully placing it back in the Highgrove-embossed envelope after I read it.
The family said they now looked forward to getting "justice" and had confidence in the British legal system.
They told me they still had affection for British people, but thought it was time British society paused to take a look at itself.
Thavisha's cousin, Beena Narangoda, said: "It's time, I think, to reflect on where you're headed.
"Any society should do that when something like this happens."
Two men have been charged with murdering Thavisha Peiris and are due to appear at Sheffield Crown Court next year for a plea and case management hearing.
A provisional trial date has been set down for 4 June.