The return of Open All Hours' 'barmy universe'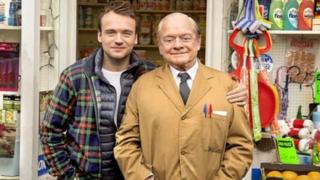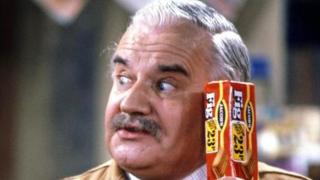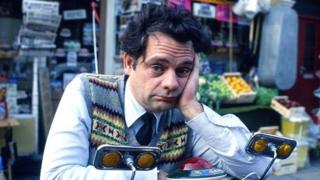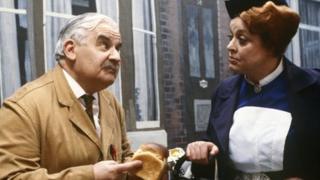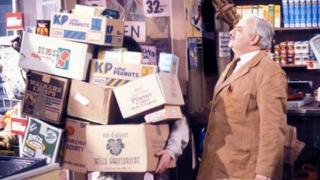 Life in an unassuming grocer's shop at the end of a non-descript row of terraced houses in Doncaster may not at first glance seem an ideal setting for TV comedy gold.
But, as Roy Clarke, writer of classic BBC sitcom Open All Hours, puts it, life in that Yorkshire corner shop was "a barmy self-contained little universe" - and one which attracted millions of viewers.
Now that "barmy" universe is once again being brought to life as Open All Hours returns to UK screens on 26 December for the first time in almost three decades.
Running for 26 episodes between 1973 and 1985, Yorkshireman Clarke's original series of Open All Hours followed the moneymaking antics of miserly grocer Albert Arkwright - played by comedy legend Ronnie Barker - who also acted as a reluctant father figure to his nephew and delivery boy, Granville.
Twenty-eight years on and that unassuming Doncaster grocer's is throwing open its door once again to a 21st Century audience.
As well as featuring Sir David Jason as Granville, Still Open All Hours also features original series stalwarts Lynda Baron as nurse Gladys Emmanuel, who Arkwright perpetually tried - and failed - to woo, and the ever-indecisive Mavis, played by Maggie Ollerenshaw.
For writer Clarke, also famous for long-running Yorkshire-based BBC comedy Last of the Summer Wine, coming back to Open All Hours was an "exciting" return to well-loved comedy territory.
"I'd thought of myself as retired and no longer connected with the business. But when this came up, wow! It's a stroll down memory lane and a joy.
"To me, its appeal comes from the same region as music hall and variety. Basically, that shop is a stage and people do their act and off they go again."
The aim of the new one-off show was to recreate the atmosphere of the original series, said Clarke.
"We've moved it on as little as possible. We've tried to keep it as close as possible to what it was. It's still the same shop, we've got Gladys, we've got Wavy Mavis and others.
"I've enjoyed it, I've so enjoyed it, trying to recapture that atmosphere. I've had a ball."
Clarke's "stroll down memory lane" even saw the cast physically return to the shop on Lister Avenue in Balby, Doncaster, where the external scenes were shot in the original series in the 1970s and 1980s.
"It's a hairdresser's just as it was," explains Clarke. "It's modernised a bit since then. What a stroke of luck that it's still there and that they were prepared to let us faff it about."
Sadly, however, Ronnie Barker's death in 2005 meant that the character few would dispute was the very heart of Open All Hours was forever lost to the show's 21st Century reboot.
The on-screen chemistry between Barker and Jason in the original series was something special, said Clarke.
"How could you get a cast like Ronnie Barker and David Jason together again? It would never happen. It was a pure fluke," he said.
The death of the man Jason always called "The Guv'nor" had been "a huge loss", admitted Clarke.
So, can Still Open All Hours fill the hole left by Arkwright's demise?
"We don't know yet," said Clarke. "That's the big question mark over the whole thing, that massive absence. Can we compensate? We'll see."
And if Still Open All Hours proves a hit, Clarke said he would "absolutely" consider writing a new series.
However, he said, whether the show proves to be a success is now down to the viewers.
"I've never any idea if a thing is a hit. I have to wait for the audience to tell me," he added.
Open All Hours is broadcast on BBC One at 19:45 GMT on 26 December. A special documentary, Open All Hours: A Celebration is broadcast on BBC One at 13:25 GMT on 27 December.