Doncaster's Hayfield School reopens after roof blows off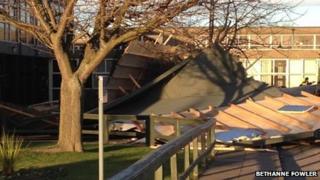 A school has reopened following work to repair a roof torn off by strong winds.
Children at Hayfield School in Auckley, Doncaster, were moved to safety after parts of the roof came loose on 5 December.
A temporary roof has been installed to allow the school to reopen for the start of term.
Head teacher Maria Rock said: "I think if anyone saw the damage they would find it unbelievable we are up and running today."
South Yorkshire Fire Service crews used thermal imaging equipment and checked CCTV footage to ensure nobody was trapped in the incident at 1330 GMT.
Contractors have replaced sections of the roof with thick felt and refurbished a wing of the school, which includes 26 classrooms and two corridors.
A permanent roof can only be installed after a tendering process.