Simon Holdsworth murder: Sheffield man arrested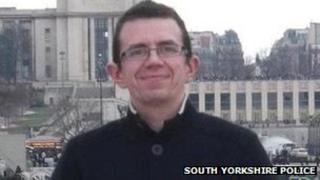 A man has been arrested on suspicion of murdering a man found dead in a field last month.
The body of Simon Holdsworth, 36, was found off Birley Spa Lane in Hackenthorpe, Sheffield on 17 December. Police said he died from head injuries.
He was last seen getting on a bus after leaving work in Intake at about 23:00 GMT the previous day.
South Yorkshire Police said a 45-year-old man from Sheffield was being questioned by detectives.
Police said Mr Holdsworth finished work at FBS Prestige at 22:55 on 16 December and was driven by a colleague to a bus stop in Mansfield Road, where he got on the number 120 bus a few minutes later.
He is thought to have got off the bus at his usual stop near the Hogs Head pub and Rainbow Forge Primary School about 10 minutes later.
His body was found by a member of the public the following morning.
Det Supt Phil Etheridge, leading the investigation, said officers were "keeping an open mind" about a motive for the attack on Mr Holdsworth, but said it was "unlikely that this was a random attack carried out by a complete stranger".