Barnsley couple to take legal action over gay marriage delay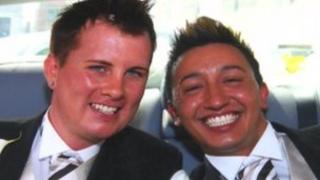 A Barnsley couple has threatened the government with legal action over the delay in being able to turn their civil partnership into a marriage.
The first same-sex marriages will take place on 29 March, but conversions of existing civil partnerships will not be possible until later this year.
Paul and Michael Atwal-Brice say they have "waited long enough".
The Department for Culture, Media and Sport (DCMS) said "new procedures" needed to be put in place first.
'Huge bombshell'
The couple have been in a civil partnership since 2008.
Paul Atwal-Brice said: "When the government brought this same-sex marriage act out for the 29 March we were thrilled.
"We started planning for the day, spoke to the registry office and this unfortunately is where we came across a huge bombshell - the fact that we couldn't get married."
They have now given formal notification to the government that they will be trying to get a judicial review over its failure to implement section nine of the Marriage (Same-Sex Couples) Act, which allows conversions to take place.
A DCMS spokeswoman said: "We aim to do this before the end of 2014.
"It will take a little longer because we need to introduce completely new procedures and processes.
"This contrasts with the work to make new marriages for same sex couples possible, where we have been able to build on existing processes, so implementation is more straightforward."