Penistone WW2 ammunition find evacuees return home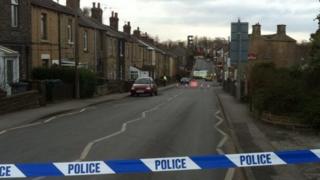 Residents evacuated from a South Yorkshire street after police found mortars, thought to contain mustard gas, in a house have returned home.
Police said a "breathtaking" collection of unexploded shells and Wold War Two munitions was discovered at the property in Sheffield Road, Penistone.
The items were found on Wednesday by officers sent to check on the owner amid concerns for his welfare.
A man was found dead inside. His death is not being treated as suspicious.
Ch Insp Andy Hodgkinson said: "When we got to the house there were a number of what appeared to be World War Two artefacts, munitions and guns.
"There were some items in there that caused us some considerable concern, chief amongst which were a number of mortars that indicated that they might contain mustard gas.
"Subsequently, when the Ministry of Defence experts had examined those, they were found to be inert.
"It was breathtaking to see what was in the house."
The man, in his 50s, was discovered by officers at about 14:00 GMT.
About 100 homes were evacuated and a cordon was put in place while bomb disposal experts attended.
The cordon was lifted at about 23:00.