Shaun Stewart convicted of son's cable electrocution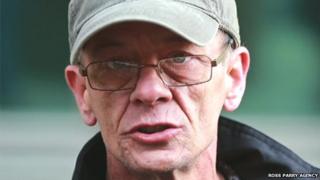 The father of a man who was electrocuted when the pair tried to steal cable from overhead power lines has been jailed for five years for his son's manslaughter.
Brent Campbell, 29, died after touching live wires during a raid on a pumping station near Barnsley in March 2012.
His father, Shaun Stewart, 52, from Lord Street, Barnsley was found guilty after a trial at Sheffield Crown Court.
Police said Stewart had disappeared from court during the trial.
A warrant for his arrest has been issued.
The court heard that the pair chopped down a wooden pole supporting live power lines, causing a short circuit that cut off electricity to 2,300 homes in the area.
As Mr Campbell was gathering up the fallen wire, the power supply was automatically reconnected sending 11,000 volts through his body.
South Yorkshire Police said Stewart had fled the scene after his son's electrocution but was arrested after going to hospital for treatment for electrical flash burns.