Sheffield's Park Hill flats: 182 new homes planned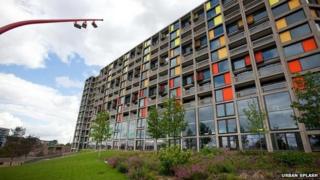 Plans have been announced for a £17m second phase of Sheffield's Park Hill development.
Another 182 homes are planned for the Grade II-listed building. The first residents moved in during 2013 and the first 79 apartments are now sold.
The 1960s concrete block was condemned as an eyesore by the 1980s and became notorious for drugs and crime.
The 13-storey building, in a prominent position near the city's train station, contains 874 apartments in all.
Although the Park Hill complex had its critics, English Heritage gave it Grade II-listed status in 1997, making the brutalist complex Europe's largest listed building and preventing it from being demolished.
'Fascinating history'
The development made the shortlist for the 2013 Stirling Prize for excellence in architecture.
The first of the new homes are expected to be ready in 12 months and the stage completed in two years.
Councillor Harry Harpham, of Sheffield City Council, said: "Park Hill is a flagship development in Sheffield, both because it's so visible from many parts of the city and it has such a rich and fascinating history."
The new phase is to have 85 one-bedroom, 93 two-bedroom and four three-bedroom properties.
The long-term project to revitalise the whole estate is planned to have at least five stages, according to developers Urban Splash.