Beheaded student Reema Ramzan was 'sparkle in the class'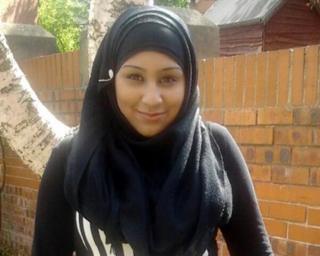 Reema Ramzan who was beheaded by her boyfriend was an "outstanding" student with a bright future ahead of her, her family says. Aras Hussein, 21, has been jailed for a minimum of 20 years after being found guilty of her murder.
Miss Ramzan was described as the "sparkle in her class", by the principal of Sheffield City College, where she was studying health and social care and planned to go to university.
She was very popular in the community of Darnall where she lived with her family, which was evident when hundreds of people attended her funeral at Bodmin Street Mosque, three weeks after her murder, last June.
"Reema was a very beautiful young lady who had a lot of potential ahead of her," her uncle Mustaq Tufail told BBC Radio Sheffield at the time.
"She was well liked within the community, at school and college. She was a very bright student hoping to go to university to study health and social care.
"She had a lot of challenges because she lost her father at an early age, so her mum - my sister - sacrificed a lot of her time for her.
"The family has been devastated, shocked, it has been a terrible ordeal - not just for family but for friends and the community as well."
Julie Byrne, principal of the college, said she would have "continued to shine" had she made it to university.
"She was an outstanding student and has been described as the 'sparkle in the class'," Ms Byrne said.
"Reema was extremely dedicated and achieved distinction grades across the board.
"She was a kind and considerate young woman who always came into class wearing a huge smile."