Hundreds of bikers join Sheffield Easter egg run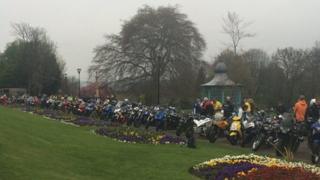 Hundreds of bikers, including ex-World Superbike Champion James Toseland, have taken part in a Easter egg run in support of The Children's Hospital.
About 1,000 motorcyclists rode through Sheffield before delivering gifts to children at the hospital.
The event was organised by Three Shires Honda Owners Club in partnership with South Yorkshire Police
Mr Toseland, a patron of The Children's Hospital Charity, said: "I look forward to the Easter Egg run every year."
He added: "The Children's Hospital Charity is a cause close to my heart and I like to do whatever I can to support the fantastic work of the hospital and its staff."