Amanda Spencer trial: Sheffield jury considers verdicts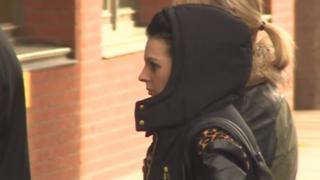 A jury has retired to consider its verdicts on a woman accused of using drugs and alcohol to lure young girls into prostitution.
Jurors were told Amanda Spencer, from Sheffield, was 16 when she began befriending her victims and forcing them to have sex for cash.
It is alleged she used the money for her own drug and alcohol addictions.
Miss Spencer, 23, is on trial at Sheffield Crown Court and denies 38 counts relating to child prostitution.
The prosecution said Miss Spencer exploited nine teenage girls whom she befriended and introduced into prostitution.
The jury was told she had grown up in the care system like the majority of the alleged victims.
'Sisters'
Miss Spencer referred to the alleged victims as her sisters but many were frightened of her, the prosecution argued.
She is accused of arranging or facilitating child sexual offences, inciting or causing a child to become a prostitute and inciting or arranging or facilitating the prostitution of a child.
Four men are also on trial facing charges relating to the case.
Lee Unwin, 26 denies paying for the sexual service of a child.
Kareem Ahmed, 29, is accused of arranging or facilitating travel for the commission of a sexual offence.
Bashdar Hamadamin, 26, faces a charge of rape.
A fourth man, who cannot be named, denies three counts of sexual assault.