Inquests open into Wake Road fire's five family deaths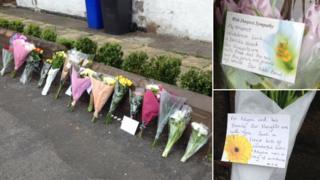 Inquests into the deaths of three children and two women who died in a house fire in Sheffield have opened.
Three generations of a family died in the blaze in Wake Road, on Monday, including Shabbina Begum, 53.
Her daughter Anum Parwaiz Kayani, 20, Adyan Parwaiz Kayani, nine, Amaan Parwaiz Kayani, seven, and nine-week-old Minahil Parwaiz Kayani also died.
Post-mortem examinations found that all five died from the effects of smoke inhalation, police said.
Miss Parwaiz was aunt to the three children and Mrs Begum was their grandmother.
At its height about 25 firefighters tackled the blaze at the house.
Police said Wake Road has been reopened but a cordon around the fire-damaged house is to stay in place during the bank holiday weekend for the police and fire service investigation to continue.