University of Sheffield rated top by students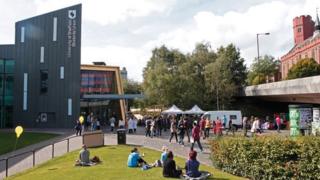 Students at the University of Sheffield have the best experience of university life, a survey has found.
The Times Higher Student Experience Survey asked more than 14,000 students to rate the quality of lectures, staff, social life and accommodation.
Also in the top 10 were Bath, the University of East Anglia, Dundee, Oxford, Cambridge, Exeter, Durham, Leeds and Nottingham.
Sheffield's vice-chancellor said he was "delighted and humbled".
Prof Sir Keith Burnett said: "This award reflects a genuine partnership between our students and the university.
"That is a partnership we will never take for granted. I would like to thank all those students who voted for this tremendous encouragement."
A breakdown of the results by category shows that Oxford was the best rated by students for high-quality staff and lectures while Bath scored highest for connections with industry.
Times Higher Education magazine has carried out the survey for the past nine years.
Undergraduates across the UK were asked about 21 aspects of university life.
Editor John Gill said: "Universities are spending ever more time and money trying to get the 'student experience' right, as they face up to competition for students not just locally and nationally, but also internationally."