Oliver Cromwell document found in papers at Barnsley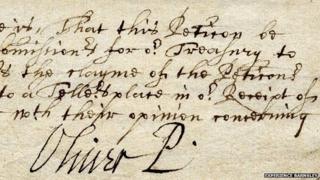 A document signed by Oliver Cromwell, one of England's most notable figures, has been found in South Yorkshire.
Archivists at Barnsley discovered a petition sent to Cromwell in 1654 by Yorkshire landowner John Savile.
The document was part of a collection of old family papers transferred to the council from archives in Sheffield.
Cromwell was an English soldier and statesman who helped make the country a republic and then ruled as lord protector from 1653 to 1658.
In the paper, the landowner tells Cromwell he has not been paid for work he has done and details his suffering during the Civil War of 1642-1651.
'Oliver P'
The paper was in a collection of old family papers transferred to Barnsley Council's Archives and Local Studies Department from Sheffield.
Landowner Mr Savile petitions "His Highness, Lord Protector of the Commonwealth of England, Scotland and Ireland" claiming he has not been paid for his duties as a Teller of the Receipt of the Exchequer, a role he had carried out for many years.
He also describes how he sustained "great losses and was imprisoned" during the Civil War.
At the bottom of the document Cromwell's instructs that Savile's claim should be looked into, and he signs the paper as "Oliver P".
Cromwell died four years after the signing of this document and in 1660 the monarchy was restored, with King Charles II returning to take the throne.
Paul Stebbing of Barnsley Archives and Local Studies said: "We are delighted to have an original document from an important period in British history amongst our collections, especially one signed by such a key figure.
"Members of the public are welcome to come and see this latest find, along with other archive collections spanning over 800 years, in the Discovery Centre in Barnsley Town Hall."