Rotherham Abbey School staff on strike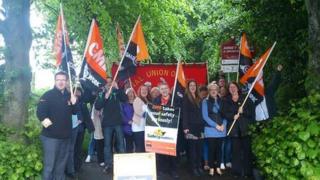 Staff at a school for children with learning difficulties have walked out in a one-day strike over redundancies and the behaviour of pupils.
The GMB union said staff at Abbey School in Rotherham, South Yorkshire, had also had to reapply for their jobs.
Branch official Lee Simpson said an inadequate behavioural policy also meant some of its members were being "kicked and punched" by pupils.
The school said it was in continuing talks with unions.
Abbey School is a community special school with 105 pupils aged between 7 and 16 with moderate learning difficulties.
Mr Simpson told BBC Radio Sheffield: "Staff are being assaulted - kicked, punched, having things thrown at them and as an employer [management] have to provide a safe working environment for their employees."
He said pupils' behaviour had worsened since the introduction of a new behavioural policy in 2012, and because of the "new faces" in the school due to changes in staffing.
Members were also concerned about four potential redundancies, he added.
In a statement the school said: "We are continuing to negotiate with the unions regarding any issues they have.
"We remain committed to our vision of providing outstanding provision for Abbey's students."
The GMB said 100% of its balloted members voted for Monday's strike action.