Barnsley Hospital NHS Trust's two-year plan for £7.5m gap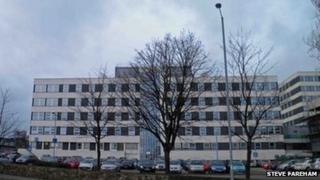 An NHS trust that discovered a £7.5m hole in its finances says it will take two years to turn the situation around.
The health watchdog Monitor told Barnsley Hospital NHS Foundation Trust it should bring in external help.
Monitor began investigating the trust in April over money worries and A&E waiting times.
Diane Wake, the trust's chief executive, said: "We are working on a two-year turnaround plan which we will submit to Monitor by 30 June."
Monitor said the investigation had found "a wider issue" with how the trust was run.
'No wrong-doing'
Ms Wake said: "Until March this year we were fully expecting to return a small surplus at the end of the financial year 13/14.
"Investigations are still ongoing - they will conclude in about four weeks' time and we should know the fine detail of why we are in this position."
Ms Wake said there was no suggestion of wrong-doing: "It's nothing like that, it's just how our finances have been managed in the year 13/14 but also potentially in previous years."
She said a plan was being put in place "that will illustrate how we will get back into a financially viable position by the end of 2016 or before that.
"It is unlikely that the police will be involved."
The trust also breached the national target on A&E waiting times five times in the last 18 months, Monitor had said.
Ms Wake added: "We are going to see a considerable improvement in our performance, particularly on the four-hour [waiting time] standard. We are reducing the waiting times for our patients in A&E."
The hospital has more than 500 beds and was built in the 1970s. It serves more than 250,000 people in the Barnsley area.