Rita Britton closes Pollyanna boutique in Barnsley after 50 years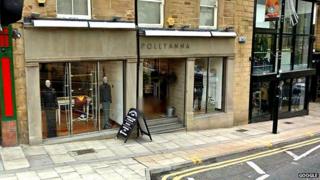 One of the fashion world's most unlikely success stories has come to an end after almost 50 years.
Rita Britton set up the high couture shop Pollyanna in a mining community in the heart of Yorkshire's coalfields in 1967.
The Barnsley boutique closed for the last time on Saturday after Ms Britton suffered a stroke and brain haemorrhage in April.
Ms Britton said she would now concentrate on her own designer label.
"Having the stroke was such a massive shock," she said.
"Everything happened in slow motion but in true Barnsley style all I thought was, 'Don't make a fool of yourself - what will people think?'"
After leaving school at 15, Ms Britton worked in a Barnsley paper mill.
At 23, she opened Pollyanna with a £500 loan from her father who was a lorry driver.
Credited with being "legendary" and "iconic", Pollyanna stocked modernist fashion by top designers like Comme des Garcons, Issey Miyake and Rick Owens.
"Working class girls couldn't go to art college," Ms Britton said. "I went into the fashion industry because it was the only creative thing available to me at that time."
When asked how she sustained a high end fashion boutique in a deprived town like Barnsley through recession, unemployment, and industrial change Ms Britton said a lot was down to good luck.
"When we opened in the 1960s you could do whatever you wanted, it wasn't all about qualifications.
"The M1 didn't exist so the people using the shop were all from the area - people in Barnsley were fairly well off then.
"The first thing that altered the culture of Pollyanna is that the M1 was built so people travelled here."
Pollyanna has been in five locations in Barnsley town centre over 50 years.
The first shop was "a dank basement with blacked-out windows and flock wallpaper," and the last a smart four-floor shop and cafe on Market Hill in the town.
"I feel very sad - the shop has been a whole lifestyle," said Ms Britton. "There's a social history of the fashion industry in there."