Ikea Sheffield store plans are approved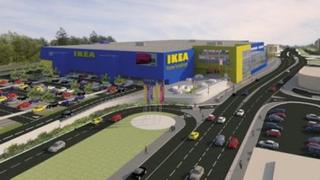 Plans for South Yorkshire's first Ikea store have been approved by councillors, creating 400 jobs.
The company said the development near Meadowhall in Sheffield would create a further 200 construction jobs.
Sheffield Council approved the plans at a meeting earlier. Ikea said it had been looking for many years for a "large enough" site in South Yorkshire.
The Swedish furniture retailer hopes to open the new store at junction 34 of the M1 in 2016.
Steve Pettyfer, from Ikea, said: "We are delighted that Sheffield City Council has supported our decision to come to Sheffield.
"It recognises the significant contribution an Ikea store will bring to the local economy and jobs market."