Threatened Humberhead Peat bogs given £2.2m for restoration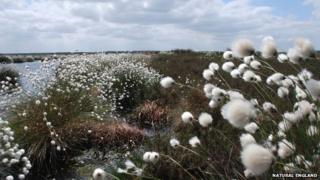 One of the most threatened peat habitats in Europe has been awarded a £2.2m EU conservation grant.
Humberhead Peatlands near Doncaster in South Yorkshire is part of the largest lowland peat bogs complex in the UK, according to Natural England.
The bogs have been under restoration since commercial peat extraction stopped at the site in 2003.
Jeff Lunn, of Natural England, said investment in peat bogs helped preserve wildlife.
"Initial restoration is proving successful but the bog needs further long-term restoration," he said.
The £2.2m grant will see restoration work for the bogs, plus research and monitoring for the next three years.
"The money will help ensure the peat is wet enough so that wildlife, including birds such as the nightjar and the hobby and specialist plants including cotton grass, bog moss, bog rosemary and wild cranberries can thrive," he added.