Rotherham Council criticised over extra funds for High Street facelift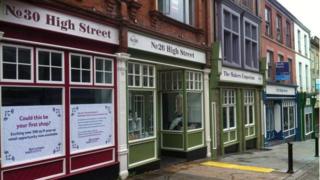 A councillor has criticised Rotherham Council for lending more than £1m to one local businessman.
Chris Hamby has borrowed £890,000 from the authority since 2011 under an approved scheme to buy and restore six shops on the High Street.
The Labour-run council will now lend him a further £300,000 to complete the work, plus a grant of £190,000.
The money is to complete the regeneration of six dilapidated shops, three of which are Grade II listed.
Rotherham Conservative councillor Chris Middleton said: "Should the council be speculating in commercial property?
"They've already set off down that road but if the developer says he can't finish the job, the phrase 'holding a gun to the council's head' probably comes into that."
In 2011, the town was highlighted as needing urgent regeneration after Mary Portas visited as part of a government-backed review into the decline of England's high streets.
The council said the three of the properties, all listed, remained unfinished.
One is the Three Cranes, a former 15th Century coaching inn.
The other two are a Georgian town house and the George Wright Building.
The council said it was a "priority for the vibrancy of the town centre" that Mr Hamby, who owns a shoe shop on the High Street, finished the work.
His "funding shortfall" came about for several reasons including a delay in Heritage Lottery Funding, severe weather and "unforeseen structural issues with the listed buildings".
Shopkeeper Charlotte Scothern, who owns Patchwork Pig nearby, said Mr Hamby "deserved all the help he can get".
"If it hadn't been for Chris those units would have stayed burnt-out buildings with no use," Ms Scothern said.
"They're part of the history of Rotherham, now they're they're turning into something useful again."
Mr Hamby said the Three Cranes Inn would "soon return to being a much-loved building and local landmark".
The council said without support Mr Hamby would not be able to fit out the buildings and therefore let them and pay the council back.
"It is prudent for Rotherham Council to continue its commitment to this important regeneration project and ensure its ongoing success," a council statement said.
As part of the authorisation of the loans from the council, Mr Hamby has been told he must preserve the historical features of the buildings and allow them to be used for public heritage displays.