Keith Vaz questions BBC and police bosses over Sir Cliff search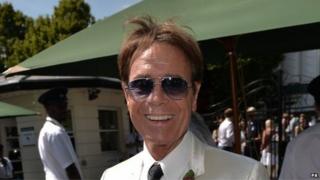 The BBC and South Yorkshire Police have been asked to explain to MPs how the broadcaster knew in advance Sir Cliff Richard's home was to be searched.
Home Affairs committee chairman Keith Vaz has written to Chief Constable David Crompton and BBC boss Lord Hall.
Sir Cliff's home was searched in relation to an allegation of a historical sex offence, which the singer, 73, says is "completely false".
South Yorkshire's crime commissioner, Shaun Wright, also wants answers.
The "sequence of events" that led to the broadcaster knowing in advance about the search of the singer's Berkshire home is currently being investigated by Mr Wright.
He said leaked information about the search had "put the force in a difficult position" and that "questions need to be answered as to the original source of the leak".
Mr Vaz's letter to Director General Lord Hall and Chief Constable David Crompton asks a number of questions about how the BBC found out about the planned search, and what deal was struck.
He said he wants a reply by midday on Friday, and he warned that both men may have to give evidence before his committee in person.
The broadcaster said it would reply to Mr Vaz, but it would not be appropriate to go into detail about "editorial processes".
A spokesman said: "Mr Vaz understands and supports the right of the media to report matters in the public interest.
"The BBC's editorial independence is protected by our Royal Charter and is highly valued by the public. The BBC does not name its sources, nor is it appropriate to go into detail around editorial processes."
'Journalistic practice'
The allegation against Sir Cliff relates to an assault claim at an event featuring US preacher Billy Graham at Bramall Lane in Sheffield in 1985, the BBC understands.
Previously, the BBC confirmed the source for its story was not the South Yorkshire force.
A spokesperson added: "The BBC agreed to follow normal journalistic practice and not to publish a story that might jeopardise a police inquiry."
On Saturday, South Yorkshire Police said it was contacted some weeks ago by a BBC reporter "who made it clear he knew of the existence of an investigation" and "it was agreed that the reporter would be notified of the date of the house search in return for delaying publication of any of the facts".
BBC cameras and a reporter were outside the gates to Sir Cliff's property when eight police officers arrived on Thursday.
It prompted the force to complain to the director general and said the BBC appeared to have broken its own editorial guidelines.