Rotherham abuse scandal: Council reveals new cabinet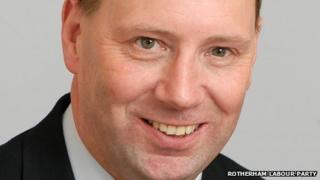 A council at the centre of a child abuse scandal has announced details of its new cabinet.
Paul Lakin has been named leader of Rotherham Borough Council with Emma Hoddinott appointed as deputy leader.
The reshuffle, which has seen the cabinet shrink from nine to seven posts, was announced by Mr Lakin in a move to free up £120,000 for counselling services for abuse victims.
A report found at least 1,400 children were abused in the town from 1997-2013.
Changes to the Labour-run authority's cabinet follow the publication of Professor Alexis Jay's report into child sexual exploitation.
The report revealed that children as young as 11 were raped by multiple perpetrators, trafficked to other towns and cities in the north of England, abducted, beaten, and intimidated over a 16-year period.
The new cabinet is:
Paul Lakin - Leader of the Council - elected 1999
Emma Hoddinott - Deputy Leader of the Council - elected 2012
John Doyle - Adult Social Care and Health - elected 1998
Dominic Beck - Business Growth and Regeneration - elected 2011
Mahroof Hussain - Environment - elected 2002
Christine Beaumont - Children and Education Services - elected 2011
Maggie Godfrey - Safe and Attractive Neighbourhoods - elected 2012
Councillors Gerald Smith, Ken Wyatt, Rose McNeely and Amy Rushforth have lost their places in the cabinet.
Mr Lakin said reducing the size of cabinet would allow the "immediate allocation of £120,000 to support local counselling services for victims and survivors".
All overseas travel by council members is also to stop.
"This immediate help will be followed by the commissioning of proper long-term provision to support victims - support that is long overdue," Mr Lakin added.
A spokesperson for Rotherham Borough Council said: "The £120,000 will be met from two Cabinet posts, worth £18,000 each, together with the realignment of funding from existing council budgets."