Hatfield Colliery secures funding to 2016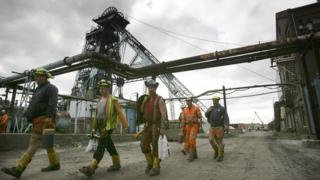 An employee-owned coal mine has secured a £4m loan from the National Union of Mineworkers (NUM) in a deal that will keep the mine open until 2016.
The NUM said it would secure the jobs of about 430 miners working at Hatfield Colliery in South Yorkshire.
The cash is to bridge a gap in production as work continues towards mining a new coal face.
It is one of three deep mines in the UK alongside Kellingley in North Yorkshire and Thoresby in Nottinghamshire.
'Unprecedented step'
It was bought by the Hatfield Colliery Partnership Ltd in 2013.
A spokesman for the NUM said: "The decision to make the investment was not one that has been taken lightly.
"The investment is on commercial terms with the expectation that it will be repaid over 12 months plus interest.
"This action is an unprecedented step for the union but reinforces its commitment to the deep coal mining industry in the UK."